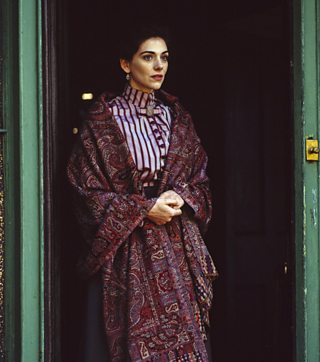 Miss Mary Morstan appears early in the novel and brings two mysteries to Sherlock Holmes. The first is the puzzle of her missing father and the second is a series of strange gifts of beautiful pearls that she has received annually for the past six years.
She remains calm and composed when they arrive to meet the mysterious letter writer at the Lyceum Theatre. The only time she appears upset is when Thaddeus Sholto announces that her father is dead. Even at this time her response is self-possessed - she does not respond with great emotion, but sits down, her distress shown only in her 'white' appearance.
Watson admits that he is attracted to her, and he presents a flattering image of a gentle, collected and modest woman. When reading about Miss Morstan (as with all characters in this novel) it is important to remember that we are seeing her from Watson's point of view.
| | How is Mary like this? | Evidence | Analysis |
| --- | --- | --- | --- |
| Innocent | She leads a quiet life as a governess. | "I have led a retired life, and have no friends whom I could appeal to." | The adjective 'retired' suggests a gentle and inexperienced character. |
| Modest | The only adornment that Miss Morstan wears is a small white feather. | She wore a small turban of the same dull hue, relieved only by a suspicion of white feather in the side. | Her modesty is shown in this token gesture of decoration. The white feather could be said to suggest her innocence as well as her modesty. |
| Calm and composed | She is quiet and able to offer comfort to the housekeeper at Pondicherry Lodge. | Miss Morstan appeared to have a soothing effect upon her. | The housekeeper is hysterical, but Miss Morstan's calm manner has an almost instant effect. Is this Watson's perception or the truth? |