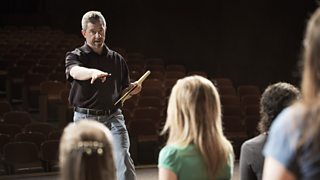 Once the play has been cast and rehearsals begin, the director and the actors will develop further thoughts about characters and how they should be presented. The text of the play and Shakespeare's language will provide the biggest indication of how to make these choices. Typically actors will look closely at the text to see:
what the character says about her/himself

what the character says about other characters

what other characters say about her/him
This evidence from the text will help actors to make initial choices about the way their character will develop.
There will be discussions about a character's motivation, which will provide thoughts about aims and ambitions and why a character behaves in the way that they do. Reaction to other characters and interaction between them is obviously important and this will be explored in rehearsals, workshops, discussions and further investigation of the text. The director will also consider themes in the play and may wish to emphasise some and pay less attention to others. This will further affect decisions about performance and the particular way that the production will interpret the play.
Shakespeare has been interpreted in many ways so there are plenty of choices to be made.
The following clip is from the tomb scene in which Juliet awakens from her deep sleep to find Romeo by her side, dead.
Before you watch the video, think about what makes this scene tragic. If you were a director, what would you do to stage this scene?
Plot - what is going to happen in this scene?

Death - how should the characters face death and its consequences?

Characters - how should the characters react to one another?

Tragedy - the play is a tragedy. How should this scene be presented as tragic?