Linda in Blood Brothers
Linda is a kind and confident character. From the age of seven, she protects Mickey and stands up for him against his brother Sammy and anyone else who she feels in being unfair to him. As a teenager, she is open about her love for Mickey and often embarrasses him by expressing this in public. When she is in her late teens, she falls pregnant with Mickey's baby and marries him.
As an adult, Linda has very few opportunities due to her poor background and early pregnancy. She stands by Mickey while he is in prison but becomes frustrated by him continuing to take anti-depressants after being released from prison, as she feels that they stop him being himself. Although she can be seen as selfish for having an affair with Edward, in many ways she is just as trapped by her circumstances as Mickey is.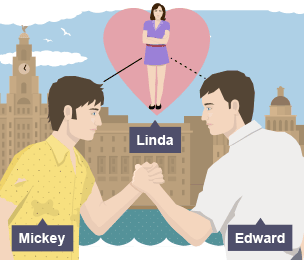 Caring
How is Linda like this?
Linda stands up for Mickey against Sammy and other characters, including his teacher.
Evidence
Oh, leave him alone, you. Y' big worm!
Analysis
Linda gets into trouble for being rude to a teacher for defending Mickey, demonstrating her loyalty to him and how she is willing to suffer negative consequences in order to stand up for him. Even as a child and teenager, she puts other people before herself.
Frustrated by Mickey taking pills
How is Linda like this?
Linda becomes more and more upset that Mickey does not appear to be trying to come off the pills - although she doesn't realise that he later does try to stop taking them.
Evidence
An' what about what I need? I need you. I love you. But, Mickey, not when you've got them inside you. When you take those things, Mickey, I can't even see you.
Analysis
Linda has spent all of her life putting other people's needs before her own, and as an adult this becomes too much for her. She finds the pressure on her relationship with Mickey too much when he is taking anti-depressants. We can see that what Linda really wants is for Mickey to be well and happy again.
Trapped in a hard life
How is Linda like this?
The Narrator sings about Linda's limited life, trapped to a housewife role with no sign of escape.
Evidence
There's a girl inside the woman / Who's waiting to get free / She's washed a million dishes / She's always making tea.
Analysis
The use of the word free reminds the audience of how imprisoned Linda is in her role as a working class housewife. Just like Mickey, her life is repetitive with no hope of change. This could be what leads to her affair with Edward.