Religious belief in Scotland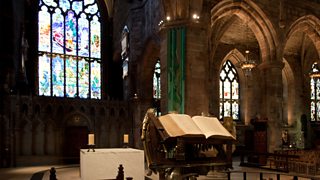 In the novel, Gideon Mack's atheism coincides with important changes that were taking place in terms of Scottish society's relationship with the Church of Scotland.
We are told that in the late 1960s and early 1970s in Ochtermill, religious affiliation began to weaken. Gideon explains that the respect and devotion that the town once had had for their Christian beliefs began to deteriorate. As a result, attendance at church fell and his father's influence and stature in the town was reduced.
Importantly, this reflects what took place across Scottish society in the second half of the twentieth century. The Church of Scotland became less and less prominent and influential. Like Gideon, more and more people across the country began to classify themselves as being non-religious.
Political background
The dual nature of Gideon's character can be compared to Scotland itself. As a child Gideon speaks standard English at home but talks in Scots in the playground.
The link with Scotland is most clear when Gideon and his friends vote in the 1979 referendum on Scottish devolution.
Gideon cannot decide on how to vote and ends up spoiling his ballot. His indecision can be seen to reflect the nation in general. The result of the vote was that 51.6% supported the proposal for devolution.
But the turnout of 64% meant that those in favour fell short of the 40% of the total electorate needed for devolution to be followed through.