Anticyclones are the opposite of depressions - they are an area of high atmospheric pressure where the air is sinking.
As the air is sinking, not rising, no clouds or rain are formed. This is because as the air sinks it warms, meaning it can hold more water.
The absence of fronts means winds may be very light. Consequently, high-pressure areas are often associated with settled, dry and bright conditions.
In summer, anticyclones bring dry, hot weather. In winter, clear skies may bring cold nights and frost. In cold conditions, anticyclones may also bring fog and mist. This is because the cold forces moisture in the air to condense at low altitudes.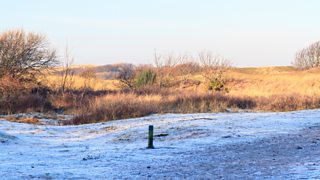 The summer of 2017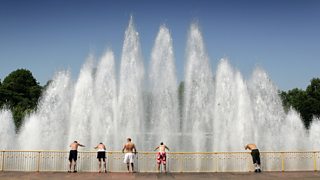 21 June 2017 was one of the hottest days in 41 years, with a temperature of 34.5°C (94°F) recorded at Heathrow.
The Met Office reading at the London airport was the highest in June since the mercury hit 35.6°C (96°F) in 1976 - the all-time high since records began.
The heatwave had seen five sizzling days in a row during which temperatures in parts of the UK topped 30°C. The reason for this is that high pressure (anticyclone conditions) brought hot air from the south which sat in place over the UK for 2-3 weeks.