The charge of many ions can be worked out using patterns in the periodic table. Elements in the same group form ions with the same charge.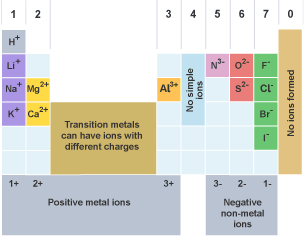 Transition metals (in the central block between groups 2 and 3) can have ions with different charges. The number in the name of the compound shows the charge of the metal ions in that compound.
For example, copper(II) sulfate contains Cu2+ ions.
The table shows the formulae of some common transition metal ions.
Metal ion

Formula

Silver(I)

Ag

+

Copper(II)

Cu

2+

Lead(II)

Pb

2+

Iron(II)

Fe

2+

Iron(III)

Fe

3+
Polyatomic ions are formed from groups of atoms. The table shows the names and formulae of some of these ions.
Cations (positively charged)

Anions (negatively charged)

Ammonium NH

4

+

Hydroxide OH

-

Nitrate NO

3

-

Carbonate CO

3

2-

Sulfate SO

4

2-
The formulae of compounds containing polyatomic ions are worked out in a similar way to single atom ions. If more than one polyatomic ion is needed, its formula is written inside brackets.
Example
Calcium hydroxide contains Ca2+ and OH- ions:
this is two positive charges and one negative charge

to balance it will need, one Ca

2+

ion and two OH

-

ions,

so its formula is Ca(OH)

2
Question

Deduce the formula for sodium carbonate.

Sodium carbonate contains Na+ and CO32- ions:
Question

Deduce the formula for lead(II) nitrate.

Lead nitrate contains Pb2+ and NO3- ions:

this is two positive charges and one negative charge

to balance it will need, one Pb

2+

ion and two NO

3-

ions,

so the formula is Pb(NO

3

)

2