A student investigates how the resistance of a thermistor varies with temperature.
The student sets up the circuit shown in the figure below to measure current and voltage.
He finds that it does not work: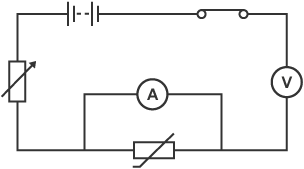 Give three modifications the student should make to the circuit so that the circuit works correctly. [3 marks]
Connect the ammeter in series with the thermistor [1]. Connect the voltmeter in parallel with the thermistor [1]. Reverse one of the cells [1].