Headlands are formed when the sea attacks a section of coast with alternating bands of hard and soft rock.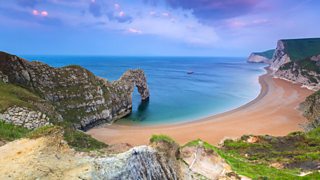 Bay and headland – Durdle Door, Dorset
The bands of soft rock, such as sand and clay, erode more quickly than those of more resistant rock, such as chalk. This leaves a section of land jutting out into the sea called a headland.
The areas where the soft rock has eroded away, next to the headland, are called bays.