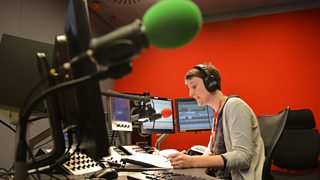 Writing a radio bulletin requires editing skills
A bulletin is a brief radio news broadcast, giving the bare facts of news stories before more depth is added in a full programme. A bulletin (also called a summary) is usually broadcast on the hour or half hour.
Journalistic writing skills - the art of being clear, concise and factual - are much the same whether for print, online or broadcast. However, composing a radio bulletin also involves editing skills - selecting and prioritising stories.
If you are writing a bulletin you must source, select, check, write and rank stories. A three-minute summary normally has about eight stories, two or three with a piece of audio (e.g. illustrated with an audio clip of someone speaking).
Source
A radio journalist sources stories for hourly bulletins. Often, stories need some background research carried out. If there are possible legal or ethical issues, make a judgement on what can or can't be included.
Select
For radio, as with print journalism, you need to know your audience. Who is listening? Chose stories to target those people.
Check
Once you've decided what stories you want to run, make sure you really understand them. If you need to ask more questions, then do so.
Double-check the facts in your stories for truth and accuracy. Make sure people's names and job titles are correct.