Camera settings
When using any camera for the first time it can be tempting to just point and shoot.
Using the automatic settings on some cameras will give you a properly focused and exposed image.
However, if you want to get the best from your camera you should switch to manual mode and take the time to learn how to use its settings.
Exact instructions will vary from camera to camera but you should be aware of the following controls and know how to adjust them.
White balance
The white balance function allows you to program the camera to properly interpret the colours and brightness of your surroundings.
If you film indoors under artificial light without adjusting the white balance, you may find that your picture has a murky looking amber tone.
If you film outdoors without properly adjusting the white balance, you may find that your image is overly blue.
Exact instructions on setting the white balance will vary from model to model and you should refer to the instruction manual that came with your camera.
If you no longer have the instruction manual, most manufacturers make PDF copies of their manuals available online.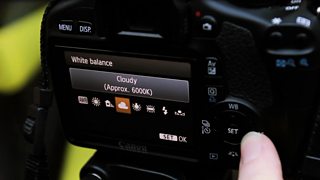 Some cameras will have some simple built-in white balance pre-sets.
These may include:
Auto:

In this setting the camera automatically calculates what the best white balance setting is. This can lead to inaccurate colours.

Daylight:

This setting is for use outside in daylight. It's usually reliable but is less effective in overcast conditions.

Cloudy:

This setting automatically adds warmer tones to normal daylight pictures. Care should be taken with this setting as it can sometimes leave your video footage looking quite yellow.

Tungsten:

This setting is designed for shooting indoors under light bulbs. As artificial lighting can give off an orange tone, this setting works to counter that by adding a blueish tone to the image.

Fluorescent:

This setting is designed for shooting under fluorescent strip light setting such as you might find in a kitchen or classroom. It automatically compensates for the eerie blue/green hue of fluorescent lights.
Focus
Most cameras have an autofocus mode which, as the name suggests, will automatically adjust your focus. However, this can be a barrier to getting truly cinematic looking imagery.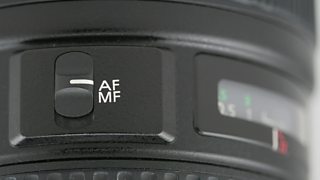 Autofocus works to try and keep your entire image in focus but can lead to an unflattering deep focus look.
Most professionally made films use selective focus to draw our eyes to the most important character or objects in the frame. You should try to do the same.
The use of shallow focus gives shots a cinematic feel and directs our eyes to where the film-maker wants us to look.
With a DSLR you can adjust the focus manually using the focus ring, a standard feature on any lens.
Some camcorders also have focus rings but many newer models have functions which will allow you to adjust the focus by using touchscreen controls on the viewing screen.
Instructions on turning off autofocus mode and adjusting the focus vary from camera to camera so check your camera's instruction manual for in-depth advice on how to achieve these effects.
You may find you need to experiment with these settings before filming begins.