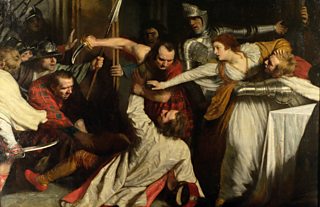 The relationship between Darnley and Mary deteriorated quite soon after their marriage. Darnley wanted influence in'the crown matrimonial' (decision-making) and Mary refused to give it to him.
Scottish nobles persuaded Darnley that David Riccio, the Queen's Italian secretary, was too close to Mary and there were rumours of a relationship between them.
Darnley was enraged by this and the way in which Riccio was enjoying his status within the royal household. While some nobles saw him as a spy sent by the Pope, others simply wanted to create trouble between Mary and her husband.
Darnley's aides, Morton, Lindsay and the Ruthvens, hatched a plot to kill Riccio

They hoped to postpone the meeting of Parliament at which Moray and the rebel Lords would be charged with treason and deprived of their lands.

In March 1566 the murderers burst into Mary's chambers and stabbed Riccio to death.

The pregnant Mary looked on helplessly

In fear of her own life she later escaped with her husband.

Darnley's dagger, the murder weapon, was found at the scene

Darnley admitted his involvement and Mary never forgave him for his part in the plot.