Mary's return to Scotland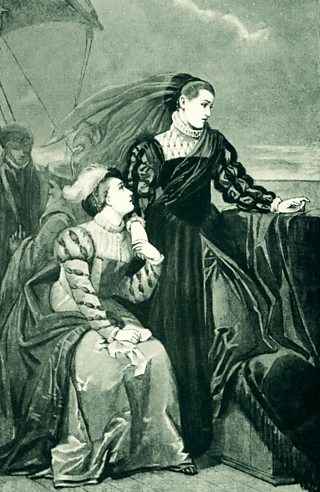 Following Francois' death, his brother became King of France. There was no place for Mary in the French court. Although reluctant, she had no choice but to return to Scotland.
However, she did not come back until 1561 even though her husband died the previous year. She landed at Leith on the 19th August to large welcoming crowds. Her reluctance to return is said to have aided the Protestant cause in Scotland:
While in France, Mary had become increasingly concerned about the situation in Scotland.

She was a Catholic and did not accept the decision of Parliament to abolish the celebration of Mass.

A nation having a queen of a different faith was a very unusual situation for this time.

The Pope, the French and Spanish all wanted, and expected, Mary to restore Catholicism to Scotland.
On her return, Mary took limited action in terms of the Reformation:
She issued a proclamation 'forbidding meantime any change in religion'.

She looked for support from the moderate reformers including her half-brother Lord James Stewart who guaranteed her personal religion.
Catholics were disappointed in this approach and this led to some disagreement. However, in the early years of her reign Mary stood firm and showed that she would stand against Catholic citizens who opposed her:
The issue of religion was important to Mary, but linked to this were relations between Mary and the nobility.

It was difficult for Mary to assert her authority as she was a young woman with a French background and this helped shape the views of nobles towards her.

There were disputes between different families as to who would help Mary rule Scotland:
Mary would have to choose her advisors and confidents, although this would be sure to alienate other powerful nobles. They could potentially rise up against the new queen or attempt to overthrow her.
Mary decided to appoint her half-brother, James Stewart, the Earl of Moray as her chief advisor. Moray was a Protestant and she hoped this would keep Protestant calls for her removal at bay.
George Gordon, the Earl of Huntly, was appointed as Lord Chancellor. He was Catholic and the Queen's cousin.
Of the 16 nobles who formed Mary's Privy Council, only four were Catholic. This may be explained by the fact that Mary wanted to be able to negotiate with England, which remained Protestant under Elizabeth I (Mary had a claim to the English throne in the event of Elizabeth leaving no heir).
The Huntly Revolt
In 1562 the Earl of Huntly, being Catholic and wanting his religion to have more influence over the Queen's decisions, led a rebellion in the Highlands. Huntly and his son put pressure on the Queen by criticising her reliance on Protestant lords and her lack of action in favour of the Scottish Catholics.
The Earl of Moray had died in 1561, leaving his lands vacant. Instead of leaving the decision of who would hold these lands to the Queen, as was her right, Huntly took over the lands for himself without permission:
Mary herself toured the north in 1562 and gave the lands to James Stewart, Huntly's rival, instead.

When trying to enter Inverness Castle, she was refused on the orders of Huntly.

Huntly was outlawed and tried to raise an army against Mary.

His son threatened the Queen's safety, followed her with an armed band and was heard threatening to abduct her.

Huntly was defeated by Lord James Stewart at the Battle of Corrichie.

Huntly died soon after on the way to his trial.

His son was beheaded in Aberdeen.

Huntly's corpse was put on trial in Edinburgh.