Long-term unemployment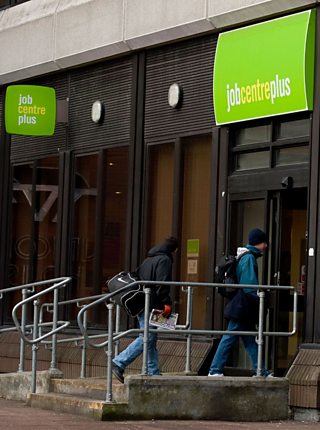 A person who is classified as unemployed is capable of work, actively seeking work and available to work.
A person who lives on benefits will have a low income. The Jobseekers Allowance for a person aged 25 or over can be up to £73.10 a week.
According to the Joseph Rowntree Foundation, a single person needs to earn at least 60% of the average wage (before tax) for a minimum acceptable living standard. In 2017, the average wage in the UK was £27,271.
Long term unemployment can affect a person's mental health, confidence and self-esteem. Long term unemployment can also lead to debt, an unhealthy diet and poor physical and mental health.
Low pay
The National Living Wage introduced by the Conservative government for an adult over 25 is £7.83 per hour. Jobs in catering, cleaning and in the caring sector are often paid at minimum wage but do not lift a person out of poverty. In some ways, it's harder to be low paid than unemployed, as the person may not be entitled to the same benefits the unemployed are. One in five referrals to Trussell Trust foodbanks are for people who are in employment.
Critics of the UK government believe the National Living Wage is not sufficient. The Living Wage Foundation believes the rate should be £9.00 for the UK and £10.55 for workers in London. Between the 1st of April 2014 and the 31st of March 2015, Trussell Trust foodbanks saw 1,084,604 donations of three days of emergency food supplies given to people in crisis. (Source: Trussell Trust)
Lack of education
Education can have a positive impact on a person's prosperity. As our economy becomes more technologically based, the well-paid jobs in society are increasingly only open to those with relevant skills and good qualifications.
A particular issue in the UK is the number of 16 to 24 year olds who are not in education, employment or training (NEETS). Around 853,000 people aged 16-24 were NEET in the period from October-December 2015. Although this figure was down by 110,000 from October-December 2014, people who are NEET remains at a high level.
Homelessness
Although those who are homeless are entitled to benefits, it is difficult to find a job when there is no address to return applications to. It is not easy to prepare for an interview without space, facilities to wash and privacy. It's also hard to even know if there are jobs available when day to day survival is the priority.
Social class background
In affluent areas of Glasgow average life expectancy is 10 years higher than that of Scotland's poorest areas. In poorer places there is generally less employment, a poorer diet and a lack of facilities. This is replicated across all cities of the UK, with deprived areas experiencing shorter life expectancy than richer areas.
There are wide inequalities in exam passes between schools with different social class intakes. Family pressure for those living in better off areas is more likely to be about doing well in school, whereas in poorer areas parents have often been unsuccessful at school themselves and find it difficult to help or encourage their children to succeed at school. Often boys living in poor areas under achieve the most as peer pressure does not encorage them to succeed.