The Eatwell Guide is the UK government's healthy eating model. It applies to most people, but not to children under two years old.
It is divided into five sections. These sections show how much food from each food group is needed to have a well balanced, healthy diet – although a balance between the groups is not necessary in each individual meal.
It is important that we learn about the Eatwell Guide so that we can take greater responsibility for our own health.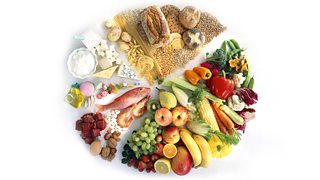 The five sections are:
Fruit and vegetables

Potatoes, bread, rice, pasta and other starchy carbohydrates

Oils and spreads

Dairy and alternatives

Beans, pulses, fish, eggs, meat and other proteins