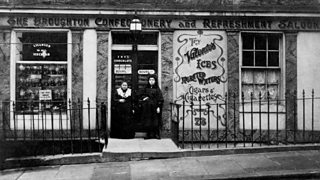 From the late 19th century, Scotland saw an increase in Italian immigrants. Many Italians experienced poverty and famine in their home country at this time.
Many Italian men fled to Scotland to make money to support their families in Italy. We see this in Act 1 Scene 2 when Rosinella sends jumpers home to her family in Italy.
By the 1920s, many Italian immigrants had created successful businesses. Some ran ice-cream parlours and cafes. They sent for their families to join them in Scotland.
Glasgow was a popular area for Italians to settle and there was a large Italian community at this time.