Orbits and constant speed
When an object moves in a circle at a constant speed, its direction constantly changes. A change in direction causes a change in velocity. This is because velocity is a vector quantity - it has an associated direction as well as a magnitude. A change in velocity results in acceleration, so an object moving in a circle is accelerating even though its speed may be constant.
An object will only accelerate if a resultant force acts on it. For an object moving in a circle, this resultant force is the centripetal force that acts towards the centre of the circle. Gravitational attraction provides the centripetal force needed to keep planets and all types of satellite in orbit.
Orbits and changing speed
The gravitational attraction between two objects decreases with distance. This means that the closer the two objects are to each other, the stronger the force of gravity between them. If the force between them is greater, a greater acceleration will occur.
The greater the acceleration, the greater the change in velocity - this causes the object to move faster. This means that objects in small orbits travel faster than objects in large orbits.
The graph shows how the orbital speed of a planet changes with its distance from the Sun.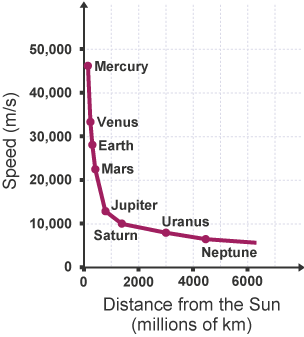 Artificial satellites travel in different orbits at different heights depending on their use:
Geostationary orbits - High Earth orbit
Geostationary satellites take 24 hours to orbit the Earth, so the satellite appears to remain in the same part of the sky when viewed from the ground. These orbits are 36,000 km above the equator and the satellites travel at 3,000 m/s. These satellites are used for communications and weather forecasting.
Medium Earth orbit
Satellites in medium Earth orbit are positioned about 20,000 km above the Earth. They take about 12 hours to orbit and are used for GPS.
Low Earth orbit
Satellites in low Earth orbit are positioned between 200 km and 2,000 km above the Earth. They take between 1½ and 2 hours to orbit. Many orbit over the North and South Poles. These polar orbit satellites can observe the whole of the Earth as it spins beneath them. The fastest satellites travel at speeds of 7,600 m/s.