Block (Relief) printing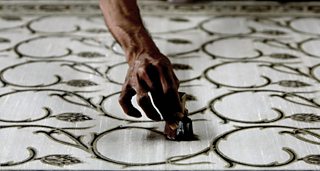 Block printing (also called Relief printing) is the process of carving patterns, shapes and designs into a 'block'. The 'block' could be made of wood, acrylic plastic sheet, lino (linoleum) or metal.
Different materials are suited to different results:
metal or

acrylic

sheets can produce much finer lines with 'sharper' detail.

wood and lino are more suited for bolder images.
The drawback with all of these materials is that each mark you make on the printing sheet will be printed – you cannot afford to make any mistakes.
Block prints are usually made with oil-based ink.
Apply the ink to a flat surface, eg an acrylic sheet.

Work the ink with a roller until it becomes 'sticky'.

Roll the ink onto the printing block. This will cover protruding surfaces, leaving recessed areas ink-free.

Use a clean roller or printing press to press the block onto the paper/surface of your final print.
Uses
Block printing can be used for many purposes, including:
It is used for small to medium 'runs' of prints. Successful block prints range from bold, simple shapes and designs with limited colours, to more complicated designs using a number of different colours.
Block printing is good for making positive and negative images and repeating patterns.