Photosynthesis is an endothermic process that takes part in the chloroplasts (found in leaf cells).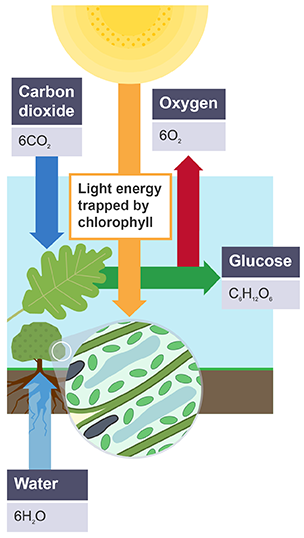 Within chloroplasts is chlorophyll, a green pigment responsible for trapping light energy in order to convert carbon dioxide and water into glucose (chemical energy) and oxygen.
Photosynthesis word equation
carbon dioxide + water -> glucose + oxygen
Photosynthesis balanced chemical equation
6CO2 + 6H2O -> C6H12O6 + 6O2
The plant uses the glucose it produces for:
Respiration

– the glucose is used to provide energy.

Storage

– the glucose is converted into starch and oils.

Useful substances

– the glucose is converted into cellulose for cell walls, protein for growth and chlorophyll.