Changes at the urban rural fringe
Demand for housing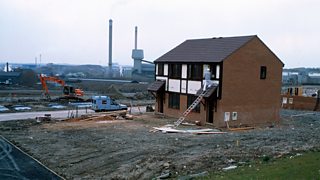 Social and demographic changes are leading to a greater demand for housing. People are living longer, and choosing to marry later, and in recent years there has been a rise in the number of single-parent families. Added to this, the UK is experiencing immigration from other countries, for example from Eastern Europe, as countries like Poland are now members of the EU. The result is an ever-larger number of smaller households, all requiring accommodation.
However, building new, affordable homes in urban areas is difficult. Land values are very high and land is in short supply.
Out of town retail centres
Regional shopping centres, such as Cribbs Causeway near Bristol, are often built on land in the urban rural fringe. Their location allows easy access to transport routes. There is also room for car parking. The land is cheaper here than in the city centre.
Hotels, conference centres and science parks
Modern technology gives firms a freer choice of location. Hi-tech industries, located in science parks, are attracted by good transport links. The areas can offer pleasant landscaped environments, with less traffic problems and pollution.
Sewage works and landfill
Urban centres cannot dispose or treat their own waste as the land is limited. Therefore space is used outside of urban area.