Word processing
Word processors can be used to create any type of text-based document, from a letter to a novel. You can change a document's appearance using a number of formatting options such as:
change the font and font size

bold, italicise and underline words

colour the text and the background

highlight words of importance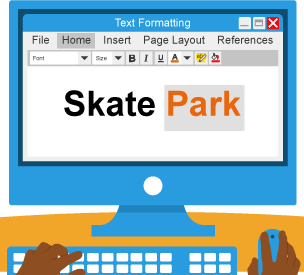 You can also add tables, images, clip art and shapes to a document. Use formatting sensibly and sparingly.
Mail merge
Mail merge lets you create a template and use it to personalise a document that you're going to send to lots of people. For example, you write a party invitation that starts 'Dear James' and you use James' name throughout. To turn this invitation into a template, replace all instances of James with a name placeholder. The name placeholder is linked to records in a database that contains all of your guests' names. Mail merge will use your newly created template to make personalised invitations for all of your guests.