People from all walks of life can commit crimes but those who grow up in poor circumstances are far more likely to be involved in crime.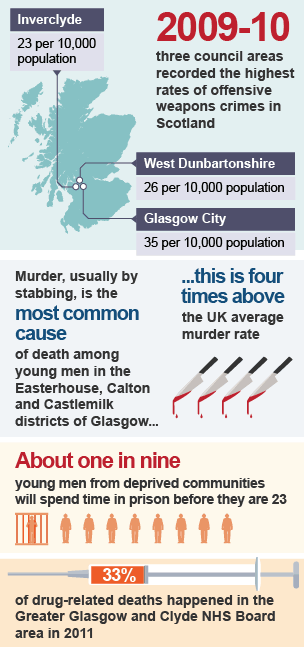 Deprived areas tend to have higher crime rates, and this suggests that poverty can lead to crime. For example, crime rates are higher in Glasgow City, Dundee City and West Dunbartonshire than East Dunbartonshire, East Renfrewshire, and Moray.
Crime rates per 10,000 population in Scotland by Local Authority, 2020-21

| Local authority | Recorded crimes per 10,000 population |
| --- | --- |
| Dundee City | 688 |
| Glasgow City | 682 |
| West Dunbartonshire | 632 |
| East Dunbartonshire | 286 |
| Moray | 264 |
| East Renfrewshire | 225 |
The vast majority of prisoners in Scotland are from poor socio-economic backgrounds with underlying causes of offending related to substance misuse, mental health and abuse. The Scottish Prison's Commission has found that around one in nine young men from the most deprived communities will spend time in prison before they are 23 years old.
According to the Scottish Prison Service 17th Prisoner Survey (carried out in 2019), prisoners identified many factors that they felt contributed to their committing an offence, some of which relate directly to poverty and deprivation:
Other factors that are often linked to poverty and deprivation also featured, such as accommodation type, alcohol and drug misuse, neighbourhood, lack of support in the community.