People from all walks of life can commit crimes but those who grow up in poor circumstances are far more likely to be involved in crime.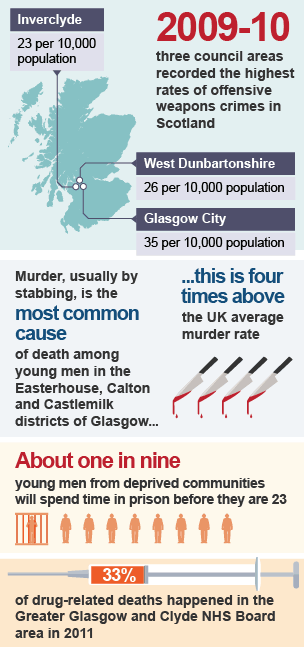 The murder rate in three areas of Glasgow is more than four times the UK average. Murder, usually by stabbing, is the most common cause of death among young men in the Easterhouse, Calton and Castlemilk districts of the city. In 2011, 33% of drug-related deaths in Scotland happened in the Greater Glasgow and Clyde NHS Board area. In 2009-10, three council areas recorded the highest rates of offensive weapons crimes in Scotland:
Glasgow City – 35 per 10,000 population

West Dunbartonshire – 26 per 10,000 population

Inverclyde – 23 per 10,000 population
Each of these local authorities has areas where significant numbers of people live in poverty.
The vast majority of prisoners in Scotland are from poor socio-economic backgrounds with underlying causes of offending related to substance misuse, mental health and abuse. The Scottish Prison's Commission has found that around one in nine young men from the most deprived communities will spend time in prison before they are 23 years old.