The police in Scotland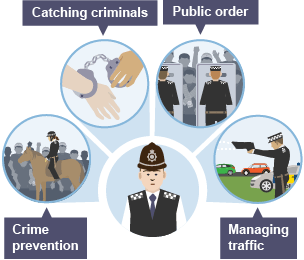 Police Scotland, came into existence on the 1st April 2013. It is a single national police force and replaced eight regional forces. The Scottish Government felt that one force would be more financially efficient and would tackle crime more effectively.
As well as Police Scotland, there are a number of other police forces which operate in Scotland. These include:
Ministry of Defence Police. The MOD police provide security within Ministry of Defence property across the UK (eg the nuclear submarine base at Faslane)

The British Transport Police. The BTP operate across the UK rail network

Civil Nuclear Constabulary. The CNC provides protection for nuclear materials on designated UK nuclear licensed sites and in transit, eg the transportation of nuclear waste from Dounreay

The National Crime Agency. The NCA tackles serious organised crime across the UK, including Class A drugs, people smuggling and human trafficking, fraud, computer crime and money laundering

United Kingdom Border Agency. The UK border agency is a part of the Home Office and is tasked to protect the UK's borders
The overall job of the police is to protect the community, prevent crime if possible and once a crime has been committed, apprehend those responsible.
Police Scotland officers have a number of roles:
crime prevention

arresting criminals

maintaining public order

managing traffic

investigating crimes
Crime prevention
It is obviously preferable if the police can prevent crimes from being committed. A considerable amount of police resources are spent on educating people on how to look after their possessions and informing the public of the consequences of particular crimes, such as knife carrying or drink-driving.
Arresting criminals
Police Scotland officers can stop and search a person without having a search warrant if the officer suspects the person of being in possession of any of the following:
drugs

an offensive weapon

stolen property

alcohol if travelling to major sporting event particularly on public transport

evidence in relation to an offence under the Protection of Wild Mammals (Scotland) Act 2002

cash or the cash equivalent of £1,000 or more as a result of criminal activity

fireworks if a police officer suspects that the person intends to use the fireworks in an anti-social manner
Maintaining public order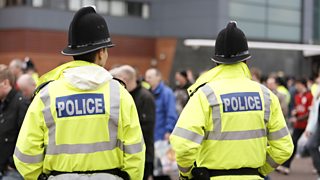 A great deal of Police Scotland's more visible work is managing large crowds often at big sporting occasions or demonstrations. The priorities are public safety and ensuring that those present do not break the law.
Managing traffic
Traffic police have the responsibility of enforcing road traffic laws, traffic management and road safety. Speeding motorists and drunk drivers are the most obvious and serious road issues that traffic police deal with.