The context in which a poem was written can sometimes tell you more about its themes, message and meaning.
Some questions you might ask include:
are aspects of the poet's life reflected in the poem?

is the time or place in which it was written reflected in the poem?
You will need to research the poet's background to discover answers to these questions. But if you do write about a poem and its context, be careful to include only details that reveal something about the poem.
Context of 'She Walks in Beauty'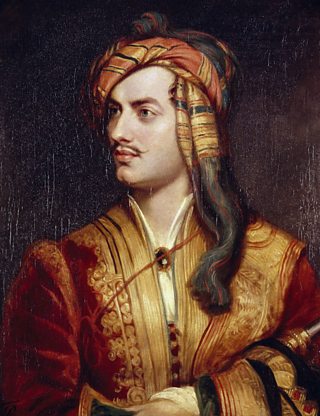 Byron was one of the leading poets of a group known as the Romantics. Romanticism was a general artistic movement (literature, music, the visual arts, etc.) which dominated European culture from the late-18th century until the mid-19th century. Romanticism had many key features among which were:
a recognition of the influence of the senses and of personal emotion

that the heart (emotion) is considered more powerful than the head (logic/reason)

an understanding of the deep power of the natural world
All of these are features of Byron's poem.
Byron is believed to have been inspired to write the poem after seeing a woman with very good looks at a fashionable London party. His poem is, therefore, a very personal one which responded to a personal situation. It has been claimed that the lady in question was in mourning and dressed in a black spangled gown; the first two lines shows how this interpretation would seem to mirror the image that Byron creates. Byron himself had many stormy personal relationships. He was famously described as 'mad, bad and dangerous to know'.
The poem was originally published as part of a collection called Hebrew Melodies in April 1815 and was intended to be set to music of a religious nature. This would have highlighted the reverence in which the poet holds the subject as he gazes at her in wonder.