Maps help geographers to plot the course that rivers run from their source to the mouth. Sometimes it can be very difficult to plot the exact start of a river in the hills and mountains and most rivers will have a range of tributaries where the river starts.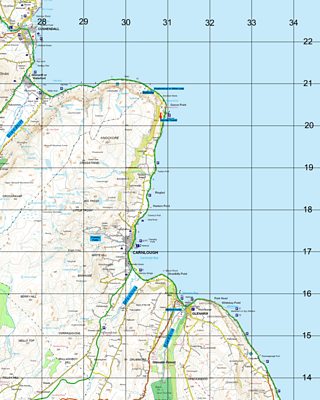 This map shows the mouth of a number of rivers as they flow off the Antrim Hills and into the North Channel – the Glenariff, Glencloy and Glenarm. In each case this shows the lower course of the river as it makes its final journey through the mouth and into the sea.
Each of the rivers has a very different path towards their mouth.
The Glencloy river is a very narrow river that is still meandering at the bottom of some steep land before it meets the sea.

The Glenariff river is also not a very wide river as it moves north out of the Forest Park and spreads over a flat flood plain before taking a left turn around the back of the village of Waterfoot.

The Glenarm river is a much wider river (up to 17m in some parts) and goes through the Glenarm Forest/ Great Deer Park and eventually flows into Glenarm Bay.
Sometimes, the map shows evidence of different erosion features (like waterfalls and river meanders) and usually in the lower course deposition features such as levees and even river islands can be noted.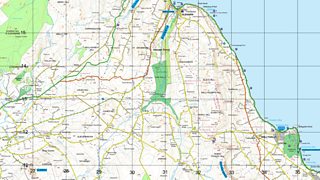 It is always much more difficult to trace the start of the river at the source. There are usually a number of different sources where different tributaries will begin their journey towards the mouth.
For example – The Glenarm river starts across a range of places including the Loughdull Burn, Clady Burn, Ballytober water, Mullaghsandall Burn, Skeagh water, Capanagh Water, Wolf Water, Shillnovogy water and Owencloghy water.
For more general revision of map skills go to the Map skills section in Geographical skills.