Metallic structure and bonding
In metals, the electrons leave the outer shells of metal atoms, forming positive metal ions and a 'sea' of delocalised electrons. Metals are solids at room temperature, so the structure of a solid metal consists of closely packed metal ions. These ions are arranged in a regular way to form a metallic lattice structure. The lattice has layers of metal ions.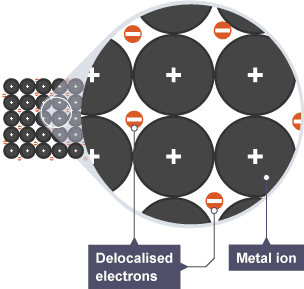 Metallic bonding is the strong electrostatic force of attraction between the metal ions and the delocalised electrons.