Scottish Prison Service aims:
to protect the public by maintaining secure custody

to humanely care for offenders

to reduce re-offending

to offer value for money for the taxpayer
Scottish prisons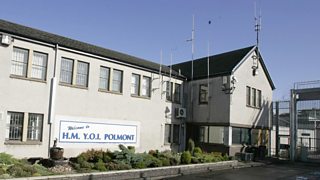 There are 15 prisons in Scotland, but they do not all serve the same purpose:
Prisons such as HMP Perth hold a mix of long and short-term adult male offenders, from those serving life sentences to those on remand - held waiting for trial.

HMYOI Polmont is a young offenders institute, for offenders aged 16 to 21 years.

There are YOIs at HMP Grampian, Perth and Cornton Vale.

HMP Cornton Vale is Scotland's women only prison and its YOI holds female offenders aged 16 to 21 years.

There are smaller units for women prisoners at Edinburgh, Greenock and Grampian.

HMP Castle Huntly is Scotland's only 'open prison' where low risk, long-term offenders complete the final part of their sentence.

Two prisons, HMP Kilmarnock and Scotland's newest prison HMP Addiewell, are privately operated.
Changes to Scottish prison life
Historically, prisons were places where extreme forms of punishment were prevalent. Today's prisons are still very strict environments. Offenders have little privacy and no freedom. There are many restrictions on their lives.
However, today's prisons focus more on education and rehabilitation. Modern prisons allow outside visitors and encourage offenders to educate themselves. For example, there are creative writing classes and writers can come in to help offenders to develop their talents.
The hope is that, upon release, offenders will have the knowledge and skills to enable them to find work outside and therefore increase the chances of them not re-offending.