Case study of footloose industry: M4 Corridor, UK
Footloose industries are not tied to a particular location. They include high-tech industries and are located near motorway junctions or on the edges of towns and cities in business parks. The products are often electronics and computer components.
Examples include Silicon Glen in Scotland and the M4 corridor. Some of the benefits of locating an industry in the M4 corridor are shown in the diagram below.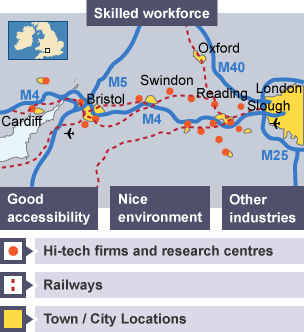 Inputs and outputs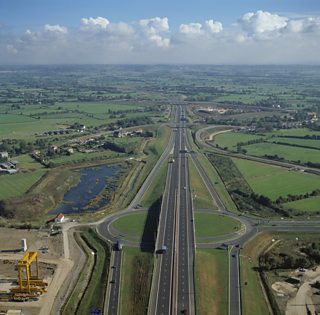 The M4 corridor stretches from Heathrow airport in the east to Bath and Bristol in the west. The corridor is home to companies such as Hewlett Packard and Sony who are involved in research and development (quaternary industry) and have links with universities who provide well-qualified graduates.

Few raw materials are used and therefore transport costs are low, making the industries 'footloose'.
Advantages
Land on the edge of cities is often cheaper than in the centre. The out of town surroundings and easy access to workers in the suburbs provides an ideal location for building science and business parks.

Motorway links and railways also provide access for commuters and for transporting components and products.
Disadvantages
Workers wanting to live near their place of work increases the demand for housing and puts pressure on green belt land.

As demand grows, house prices increase. This means that less skilled and lower paid workers are priced out of the market in desirable areas.