Trampolining competitors and competition areas
Trampoline
A trampoline consists of a metal frame that supports the spring bed that the gymnasts bounce on to perform their skills and routines.
A trampoline measures 4.28 m long by 2.14 m wide.

The outer frame measures 5.05 m long by 2.91 m wide and contains approximately 110 steel springs.

The trampoline bed is constructed of nylon or string material that is approximately 6 mm thick and creates a tension that stabilises within one second of contact.

The trampoline must have shock-absorbent safety platforms called end decks.

The trampoline bed is marked with a jumping zone that is 2.15 m long by 1.08 m wide.

Inside the jumping zone is a red cross (70 cm in diameter) that marks the centre of the zone.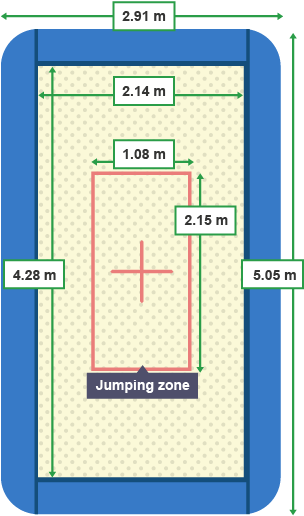 Double mini-trampoline
A double mini-trampoline (also known as a DMT) is smaller than a regular trampoline.
A trampoline measures 2.85 m long and has a sloped end and a flat bed.

The landing zone measures 4 m long by 2 m wide.

The run-up is 20 m long by 1 m wide.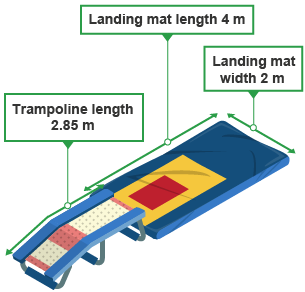 Tumble track
The run-up is a specialised sprung track that measures 25 m long.

The landing zone sits at the end of the run-up and is 6 m long by 3 m wide.
Competitors
When people think of trampolining, they often associate it as a single activity. However, it is actually a collection of sporting events that consist of four competitive disciplines:
Trampoline - this is a single competitor discipline where performers complete routines that combine ten different skills. These are judged and scored on the quality of performance, the degree of difficulty and the time of flight.

Synchronised trampoline - this competition requires partners to synchronise their routine on two separate trampolines.

Double mini-trampoline - this requires a single competitor to complete two different skills on a trampoline that is smaller than a regulation competition trampoline.

Tumbling - this is not completed on a traditional trampoline but requires a single participant to complete a sequence that contains eight skills on a sprung 25m track.