Deirdre and the truth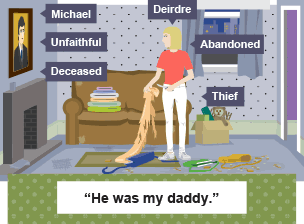 Deirdre is different from the other three characters. Her cryptic opening speech, the initial reference to her being like a ghost and her refusal to answer questions all combine to make her a mysterious figure. Her entry into the house is preceded by a thunderous knocking at the front door. The women think this means a raid is about to happen but Deirdre's arrival is in fact something even more threatening.
Later in scene one, Deirdre's monologue about a knife gives the audience an insight into her role. She recalls seeing a man threaten another man with a knife and saying Is that the truth? The knife thus becomes a symbol, representing:
a wee bit of hard truth you could hold in your hand and point where you liked.
What sets Deirdre apart is that she is searching for the truth about her father, whereas the others are, in their own ways, trying to avoid facing up to some truth. Deirdre's role is to destroy their illusions and bring them face-to-face with the truth.
At the end of scene three, Deirdre literally uses a knife to cut through Nora's polyester material, symbolising the destruction of Nora's illusion.
Deirdre also destroys Cassie's dream of escape by stealing her money. By telling Cassie she has seen her in a car with a man. Deirdre also hastens Cassie's confession to Marie that she had an affair with Michael. For years she has hidden her guilt, fearing that the truth would come out, and it may be that Cassie feels she should confess to Marie before Deirdre tells her.
Deirdre also uses truth as a weapon when she tells Marie that Michael was her father. However, it is Marie herself, not Deirdre, who takes the knife and smashes and slashes Michael's picture with swift, efficient destructiveness. The knife is used to destroy another illusion, Marie's belief that Michael was a good man.