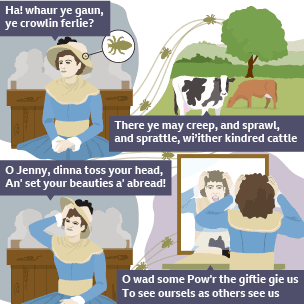 The poem is told in the first person by a persona who describes witnessing a bold little louse crawl over a finely-dressed woman in church. The woman (Jenny) sits oblivious to its advances. As the louse continues to advance towards its final destination – the lady's very fine bonnet – the speaker's tone changes from mock-outrage in the opening stanzas to admiration for the louse's determination.
In the end, Burns offers us a critique of social injustice as well as a plea to avoid vanity in favour of introspection and self-awareness.
The poem features a philosophical tone as it considers aspects of human life and wider society. The satirical voice of the narrative persona invites comparison with other poems in the set such as Holy Willie's Prayer and To a Mouse.
This poem explores the following themes:
the importance of self-awareness

the concept of social justice and equality

our human duty to understand the importance of all life, however insignificant it might seem