Bath was built in Roman times, around the hot water springs that were thought to be good for health and wellbeing. Water, at least 2 km below the surface, is geothermally heated and rises under pressure to the surface. It has a surface temperature of around 45°C.
Other features that make Bath a good tourist city include:
Roman remains

Georgian town-planning and architecture

unique retail experience due to nearly half of the retail units in Bath's

CBD

being independent stores

backdrop to many films because of the green spaces and buildings
Challenges faced by Bath
Conflicts can occur between present-day community needs and conservation needs of the historic buildings. It is important to retain Bath's identity.

Bath has more people employed in

tertiary

industries than the national average. This is partly because of the tourism and retail base. The local manufacturing industry has declined. Only around 10 per cent of the local workforce is employed in manufacturing. Widening the economic base from tourism without major implications for the city's structure is a challenge.

There is no easy connection with the national motorway network from Bath, or to the region's main airport - Bristol International Airport.

House prices are higher than the national average, so the cost of living is high. It is difficult to attract and retain a key workforce without the need to

commute

into the area - which then adds to the transport problems.
Being a tourist centre is the city's key function, and it has been since the 17th century. Because the tourists come to see the city centre, it is called urban tourism.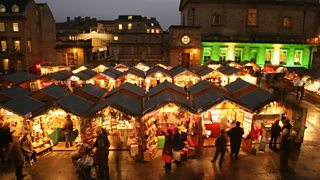 By the 18th century, Bath was the most fashionable spa town in England. In 2008, nearly 5 million tourists visited the city and most were day visitors. Around 1 million people visit the Roman Baths each year. It also has one of the busiest tourist information centres in the UK. It lays on a Christmas market for tourists.
Positive impacts of tourism in Bath
Tourism brings in money - tourism in Bath is worth around £350 million a year.

Tourism provides jobs - one in 10 people who work in Bath work in the tourism industry.

The multiplier effect - money spent by tourists helps to generate further business in Bath.

Better facilities and services - investment in facilities for tourists can also benefit residents.
Negative impacts of tourism in Bath
Streets become very congested.

Prices may be pushed up because of tourism.

Tourists may block pavements when stopping to take photographs.

Noise and litter is increased.

Additional pollution is caused by emissions from tour buses, increasing the weathering and erosion on limestone buildings.
Examples of development in tourism include the Thermae Bath Spa. From 1978 until 2006 Bath did not have a functioning spa. A project, partly funded through grants, saw the opening of a new spa in 2006.
In addition, street cleaners are trained to have information on the tourist attractions and local information in order to help tourists access information.