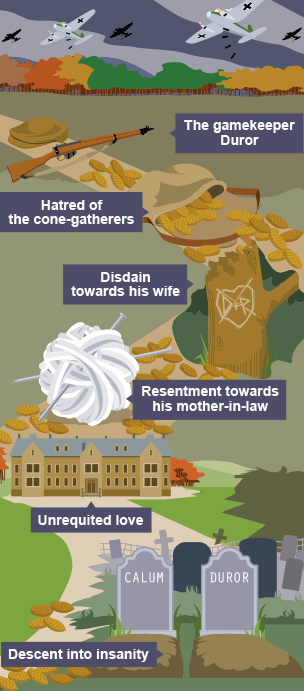 The novel takes place on a Scottish Highland estate during World War Two, over the course of five days. It centres on the story of two brothers, Neil and Calum, who have been employed to help the war effort by gathering cones, so that the trees can be replanted after the war.
Duror, the estate's middle-aged gamekeeper who is mentally unstable, takes an instant dislike to the brothers and does all he can to make their lives more miserable as well as trying to get rid of them for 'defiling' his territory.
Duror spreads malicious rumours in an attempt to discredit Calum and involves the kind-hearted animal lover in a bloodthirsty deer hunt to deliberately torture him. Duror's wife Peggy is morbidly obese. He feels trapped within his marriage and is full of feelings of disgust for his 'imperfect' spouse.
Duror channels his hatred of what he considers to be flawed beings, and all that is wrong with his world, into seeking vengeance on the two cone gatherers, the angelic Calum in particular.
Duror fails dismally in his plans concerning the deer drive in which he had put the brothers forward as volunteers to assist, knowing full well Calum would be distressed by the hunt.
Duror's suppressed malice violently surfaces in the end when he shoots Calum down from a tree before turning the gun on himself and ridding the world of his evil presence.
Duror's suicide echoes that of Adolf Hitler, the Führer of Nazi Germany, who wanted to destroy anyone he considered to be 'flawed' in any way.