Smart materials
Smart materials are materials that have properties which change reversibly, ie can change easily but can then easily change back, depending on changes in their surroundings. Here are some examples.
Thermochromic pigments
Thermochromic pigments change colour at specific temperatures. Examples include colour-changing novelty mugs, colour-changing spoons, battery power indicators and forehead thermometers.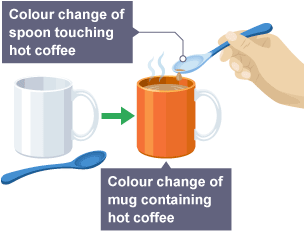 Photochromic pigments
Photochromic pigments change colour when exposed to light. This can be used in clothing but is most commonly found in photochromic lenses for glasses, which darken when exposed to ultraviolet light. This means that these glasses act as sunglasses on sunny days, but quickly change back to normal glasses when the lenses are no longer in sunlight.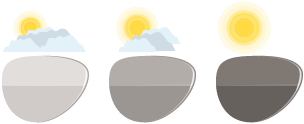 Shape memory polymer
Shape memory polymer is a polymer that can be bent out of its original shape and then returned to its original shape when heated. Potential applications for this include sporting equipment, such as helmets and gum-shields or car bumpers, which can be heated to return to their original shape after a minor collision. In addition, medical stitches can self-tighten as a wound heals.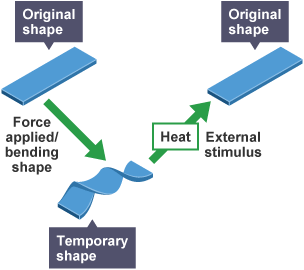 Shape memory alloy
Shape memory alloys are mixtures of metals that return to their original shape when heated, similar to shape memory polymers. Again, this type of smart material could be used in sporting equipment and car bodies, as well as certain medical applications, such as surgical plates for joining bone fractures. As the alloy is warmed by the body, it applies a greater tension than normal plates, allowing for faster healing. For example, nitinol is a shape memory alloy of nickel and titanium.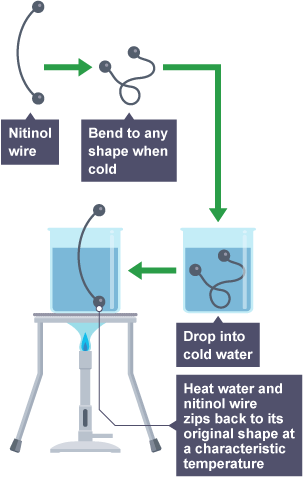 Hydrogels
Hydrogels can absorb up to 1,000 times their own volume in water. After this water has been absorbed, it can be released when its surroundings are dry. Changes in temperature or pH can also cause the hydrogel to release water. Applications of hydrogels include: