Environmental problems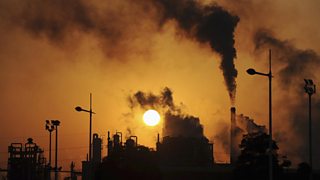 China has 16 of the world's 20 most polluted cities and according to Chinese government sources, about a fifth of the urban Chinese population breathe heavily polluted air. Many places are polluted with fumes from high-sulphur coal and leaded gasoline. Only a third of the 340 cities that are monitored meet China's own pollution standards.
The rapidly growing economy and the greater urbanisation of the population (urban dwellers use two and a half times the energy of rural dwellers) has left the country chronically short of energy. With the CPC set on a policy of economic growth to maintain social order, the Chinese have little choice but to develop energy production as cheaply and as quickly as possible.
Coal burning power stations are relatively cheap and quick to build. 70 per cent of China's energy comes from coal. However, the problem with burning coal is the huge environmental damage from C02 emissions both within China and globally.
Nuclear power is an expensive option and currently provides for only 4 per cent of China's energy needs. Other sources of 'green energy' are being developed.
Three Gorges Dam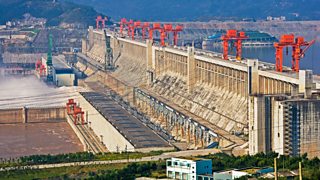 The Three Gorges Dam spanning the Yangtze is the world's largest dam and electricity-generating plant. Construction was completed in 2006 at a cost of $30 billion.
The Chinese authorities hope that the dam does not become another huge environmental problem as the lake behind the dam traps millions of gallons of polluted water from dirty factories upstream.
To reduce pollution, the authorities plan to build 150 new waste water plants at a cost of $4.8 billion. However, with over 3,000 factories pouring out 1 billion tonnes of toxic waste, the lake has become increasingly polluted. Many of the rivers that feed the lake have also become polluted and the water is not safe for human use.
Government responses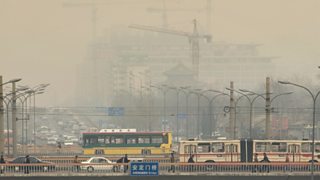 China has achieved some significant improvements to its environment during the recent years. According to the World Bank, it is one of a few countries in the world that has been rapidly increasing their forest cover and is managing to reduce air and water pollution. In 2013 two coal-burning power plants near Beijing were closed.
In 2008, as part of a $498 billion economic stimulus package (the largest in China's history), the government published plans to enhance sewage and rubbish treatment facilities and prevent water pollution, accelerate green belt and natural forest planting programs, and increase energy conservation initiatives and pollution control projects. In 2015, China announced plans to further cut emissions to more than half what they were in 2005 by 2030.