Changing employment and social security
Migrant workers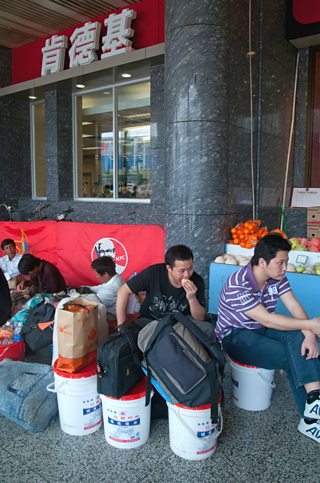 In recent years more than 250 million Chinese people have left the countryside to find work in the cities. It is anticipated that the number of migrants with continue to rise by about 6 million per year to reach a total of 291 million by 2020. Work in the cities is normally better paid than in the countryside and there are greater opportunities.
Changes to the permit system
In the past, it was illegal for people from the countryside to go and live in the cities without a permit. The permit system linked every citizen to a home district outside of which workers had few rights, eg to welfare benefits, medical care or schooling. Migrant workers living in cities without a permit were often sent home. An employer caught using migrant labour was fined.
Since 2005, the authorities have relaxed the permit system in most parts of China. They realised the Chinese economy would benefit from the reduction of labour restrictions. In 2013 it was announced the controversial temporary residence permit system was to be abolished.
A new welfare system
The authorities intend to replace the permit system with a new national social security system so workers will have the right to claim benefits wherever they live.
The reason behind this change is the authorities' growing concerns about the millions of unemployed urban Chinese living on the margins of society. In some cities crime has increased sharply and there is a constant threat of social disorder. It is also recognition that, as many people become wealthier, it is not acceptable to deny the urban poor an income or access to health and education services. At present these must be paid for by the individual.
The cost of a new social security system is huge and funding will be dependent on continued economic growth. However, with sustained increases in social spending (China spends around 7 per cent of GDP on social welfare) there is now a minimum income standard and nearly everyone benefiting from some measure of health insurance.