The Chinese economy today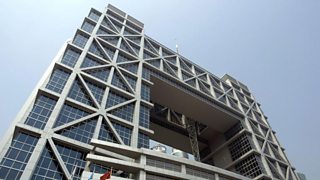 The Shanghai Stock Exchange (SSE) re-opened in 1990. In 2015, the value of stocks in China was $10.3 trillion, second only in total to the US ($25 trillion).
Although the private sector in China has expanded rapidly in the last 30 years, with most of the population now working in the private sector (this includes those working in agriculture), the state continues to play a large role in industry. For example, the financial services, power and telecommunications industries are dominated by a handful of very large state controlled companies.
Of China's 500 biggest industries more than half are state owned or are state stockholding enterprises.
Impact of world recession
The fluctuating world economy has impacted on China's exports. The drop in demand for Chinese goods has resulted in many manufacturing companies laying off workers. The official unemployment rate is around 4.1 per cent with 9.2 million people unemployed in urban areas in 2014. However, the true unemployment rate could be as high as 10 per cent as the Chinese government do not count millions of workers looking for work outside their home area.
In 2015, growth figures for the Chinese economy were disappointing compared to previous years. Some economists in the West suggest the Chinese economy may be facing its most difficult decade since the 1970s.