Molecules containing double bonds [Higher tier only]
Some molecules contain a double or triple bond. This type of bond occurs when more than one pair of electrons are shared between the atoms to attain a full outer shell (double bond – 2 pairs of electrons, triple bond – 3 pairs of electrons).
An example is carbon dioxide.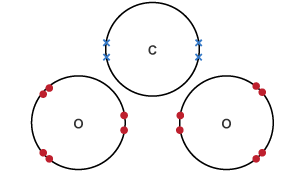 This can be represented as 0=C=0.