The English Army returns to Scotland
In the summer of 1298, Edward I again marched north into Scotland.
Wallace tried to avoid a pitched battle by hiding his army from the English and destroying crops and buildings in the north of England to force the English army to return home.
However, as Edward I was thinking of returning to England, he received information that Wallace's army was near Falkirk.
Some historians believe that Wallace was made to fight at this point. The army may have been tired of hiding and if Wallace was to keep control of Scotland, he needed the support of the common soldiers.
The two armies faced each other at Falkirk, on 22 July 1298.
Neil Oliver describes events leading up to the Battle of Falkirk in the video below.
The Battle of Falkirk
Wallace's forces were heavily outnumbered by Edward I's army, so he positioned his men as defensively as possible.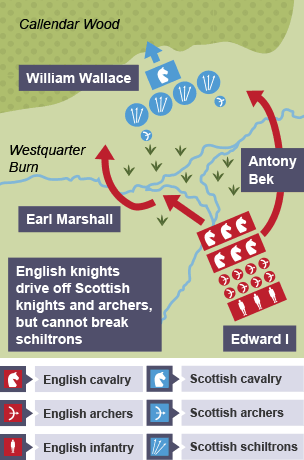 Facing the English, Wallace set up his men in four 'schiltrons'. The Scottish archers would defend the schiltrons and they were defended on either side by the Scottish cavalry.In front of the Scots was soft, boggy ground that would be hard for the English to cross.
However, the English army was too strong for the Scots.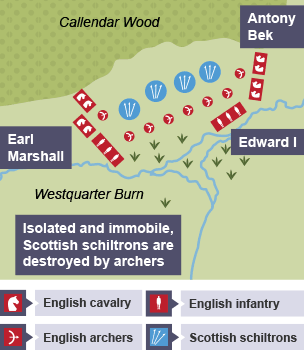 The English cavalry drove the Scottish cavalry from the battlefield and was then able to defeat the Scottish archers.
Without the protection of either cavalry or archers, the Scottish schiltrons were vulnerable. As the English charged again, their formations crumbled and the Scottish army was massacred.
This was a crushing defeat for the Scottish army. William Wallace survived the battle and managed to escape, but afterwards resigned as Guardian.