Wallace and Moray saw themselves as 'Commanders of the Army of Scotland' and moved to strike a decisive blow against English occupation.
In the heart of Scotland, Stirling and its Castle had crucial strategic importance. Whoever controlled Stirling could then control movement between the north and south of the Kingdom.
The Battle of Stirling Bridge
On 11 September 1297, the Scottish forces, led by Wallace and Moray, faced a strong English army on the outskirts of Stirling. Wallace and Moray took up position on Abbey Craig hill.
The English army was led by the Earl of Surrey, who was Edward I's lieutenant in Scotland, and Hugh de Cressingham, the Treasurer of Scotland.
Neither of these men saw either Wallace or Moray as a threat and they expected to crush the rebel Scots.
De Cressingham was hugely unpopular amongst the Scots and his presence undoubtedly antagonised the men of Wallace and Moray.
Surrey's attitude at Stirling may have contributed to the English defeat:
Before the fighting began, he had already sent some of his soldiers home, to save paying their wages.

He believed that the English army would easily defeat Wallace and Moray.

He slept late on the morning of the Battle.

He could not decide how to get his army across the river and took too much time to do this.
The course of the Battle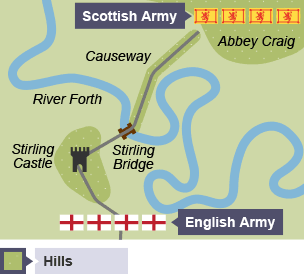 The Earl of Surrey decided to use Stirling Bridge to get across the river. However, the Bridge was extremely narrow and would only allow a small number of the English to cross at once.
Wallace and Moray allowed a significant number of the English army to cross before sending in their own troops.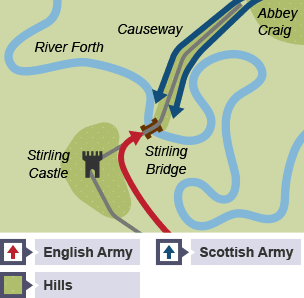 The English were trapped between the Scots army and the river. The Scots relied on their spearmen and eventually separated the English cavalry from the rest of their army on the other side of the river.
Cut off and unable to retreat, huge numbers of English were killed and many drowned in the river. Hugh de Cressingham himself was killed and was supposedly skinned and cut to pieces by the Scots.
In the chaos that followed the Scots victory, Surrey and his army retreated to the relative safety of Berwick in the borders.