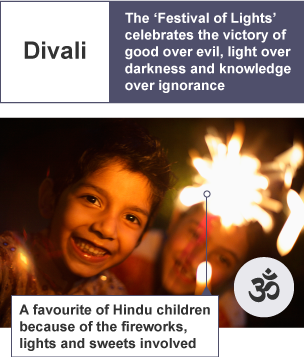 Divali is probably the most well-known and popular Hindu festival. The word 'Divali' translates as 'full of light' and Divali is known as the festival of lights because of this.
The festival celebrates the victory of good over evil, light over darkness and knowledge over ignorance, although the legends that go with the festival differ in the following ways:
in Northern India,

Divali

celebrates

Prince Rama's

return after defeating the demon Ravana

in some parts of India, the festival honours

Lakshmi

, the goddess of wealth

in Nepal, Divali commemorates the victory of

Lord Krishna

over the demon king Narakasura

in Bengal, it is associated with

Kali

, the goddess of time and death
Traditional diva lamps are small clay pots filled with ghee or oil, containing a cotton wick. Many Hindus light a diva as an act of daily worship.
Many Hindu homes, shops and public places are decorated for Divali. Lights are the main feature, eg fairy lights and candles, as well as traditional diva.
Colourful patterns called rangoli can be seen on the doorsteps of homes to welcome visitors and good fortune in the shape of Lakshmi, the goddess of wealth. Some Hindus will leave the windows and doors of their houses open so that Lakshmi can enter and grant good fortune.
Many Hindus start the new business year at Divali. Some also celebrate the Hindu New Year on the day after Divali.
The festival is often prepared for and celebrated by:
cleaning the home

putting up decorations

cooking feast food, particularly Indian sweets and puddings

re-telling Divali stories through drama, song, dance and art

wearing new clothes

exchanging gifts and cards

firework displays