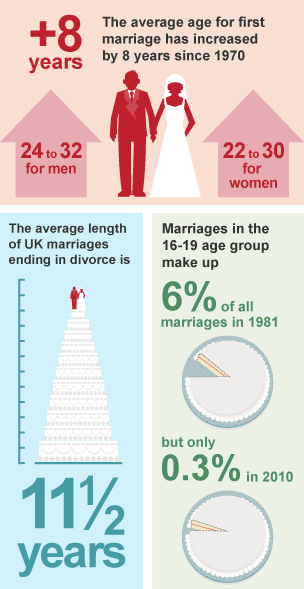 Many people see marriage as having two key purposes:
uniting two people together in a life-long bond

providing a secure environment for the birth and upbringing of children
Marriage is a civil contract between two people.
The couple to be married may choose whether to have the ceremony in a register office or other place licensed to conduct marriages, or whether to have it as part of a religious ceremony in a place of worship licensed to conduct it.
In 2014, the UK parliament brought in a law (known as the Marriage (Same Sex) Couples Act 2014) so that a couple of the same gender can get married in England, Scotland and Wales, although this excludes getting married in a religious establishment.
Increasingly, couples are choosing to live together before deciding whether to get married. Some couples choose to live together without ever getting married. Living together without being married is called cohabitation. Opinions on this vary within and between different religious traditions.
Arranged marriages
In some religious traditions marriages are 'arranged' by the young person's family. Parents regard it as a serious responsibility to find a suitable partner for their son or daughter. The final choice is usually made by the young person, who is free to reject as many of the potential marriage partners as they wish until they meet someone who they are happy to marry.
Some families may come from a tradition of arranged marriages but now adopt a more Western way of finding a suitable partner, eg approaching a matchmaking or dating agency. This often has the full support of parents. An arranged marriage is not the same as a forced marriage.