London congestion charge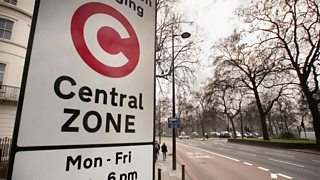 Drivers are charged for driving in the congestion charging zone. The aim is to discourage people from driving into the zone during peak hours.
Using public transport instead reduces congestion, time spent in queues, the pollution generated and the cost to the economy.
The income generated is used to improve public transport, eg London buses have been renewed and the older vehicles which cause more pollution have been removed from service.
The results
Traffic congestion, accidents, and pollution levels have all been reduced.

Bus services are more reliable.

Retail

sales inside the congestion charging zone have increased.

There has been increased investment in public transport.