Case study: wildfires
One of the major predictions made about climate change is that incidents of extreme weather will become more common. This can include weather events such as drought, flooding, storms, and wildfires.
The summer of 2021 saw several areas in Europe and North America experience heatwaves that lead to severe problems.
In these areas, drought conditions dried out forests and scrubland which provided the perfect fuel for wildfires. The lack of moisture or rain meant that, once the fires had taken hold, there was little to stop them spreading quickly over large areas.
As well as devastating huge areas, destroying homes, and endangering lives, huge forest fires release large amounts of carbon dioxide into the atmosphere.
Turkish and Greek wildfires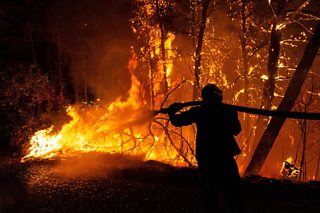 In July and August of 2021 a prolonged heatwave temperatures soared to above 40 Celsius. This lead to the outbreak of widespread and catastrophic wildfires.
In Greece, wildfires spread across the island of Evia and on the mainland to the north and east of Athens. In some of the worst fires seen in Greece in decades, over 57,000 hectares of land was burnt, destroying homes and farmland. Two people have been reported dead and dozens have been hospitalised.
In Turkey, wildfires spread unchecked through large parts of the south of the country with key tourist destinations such as Marmaris coming under threat.
North American wildfires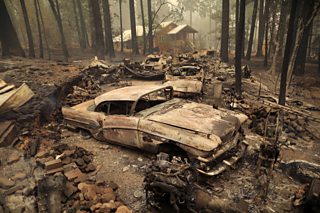 In the USA, Californian fire-fighters are tackling the second largest fire in the history of the state. The Dixie Fire has already devastated an area of land twice the size of New York City.
This blaze is just one of over a hundred blazes in the country, with others spreading across the south and west.
The fires in California in 2021 are already close to surpassing the 2020 fires which was one of the worst fire seasons in the state's history.
Canada has also experienced unusually high temperatures that have led to over 200 wildfires spreading through the western province of British Columbia.