Genetic key terms
Some characteristics are controlled by a single gene, such as fur colour in animals and red-green colour blindness in humans. Each gene might have different forms and these are called alleles.
The diagram shows the relationship between the cell, its nucleus, chromosomes in the nucleus and genes.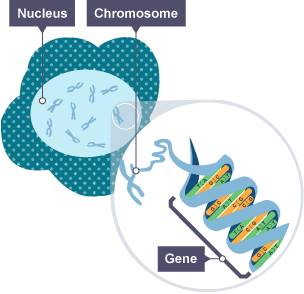 Chromosomes are found in pairs in the nucleus of a body cell. One chromosome is inherited from the mother and one is inherited from the father. The chromosome in each pair carries the same genes. These genes could be the same, or different versions.
Alleles or variants are different versions of the same gene. For example, the gene for eye colour has an allele for blue eye colour and an allele for brown eye colour. For any gene, a person may have the same two alleles, known as homozygous or two different ones, known as heterozygous.
The genotype is the collection of alleles that determine characteristics and can be expressed as a phenotype.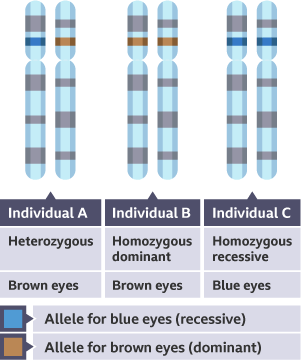 Alleles may be either dominant or recessive:
Most characteristics are a result of multiple genes interacting, rather than a single gene.