Case study of changing energy use: The UK
The UK government wants to reduce its carbon dioxide emissions. It also wants to increase the amount of energy which comes from renewable sources.
By 2020 European Union targets state that 20% of energy must come from renewable sources. Each member state of the EU may have a different target, as 20% is an average figure for the EU.
The UK has a target of 15% of its energy consumption being sourced from renewable energy. (In 2009 only 3% of energy came from renewable sources in the UK). Sweden has a target of nearly 50% whereas Malta has a target of 10%.
The EU also aims to reduce greenhouse gas emissions by 80-95% below 1990 levels by 2050.
There are two ways the energy use can change in the UK:
Reducing the demand for energy

Increasing the supply of renewable energy
Reducing energy demand
The demand for energy in the UK varies. This is because of:
Economic factors: For example during the recession energy demand did not increase as predicted

Seasonal factors: For example the demand for domestic energy over winter is greater than over the summer.

Temporal factors: For example at night there is surplus energy on the national grid because demand is lower
Regulations have forced vehicles to become more energy-efficient and give off less atmospheric pollution. The government has also continued to increase fuel and road taxes. Even so, the use of transport is rising so fast that the amount of CO2 given off by transport vehicles continues to rise.
There are also incentives to save energy – for example grants are available to help make a home more energy efficient. Find out more about energy efficient homes in the waste and pollution revision bite.
Renewable power
Wind
UK power companies are now investing hundreds of millions of pounds in renewable power. The greatest amount of renewable energy in the UK comes from wind generation. In 2010 the world's largest offshore wind farm was opened in Thanet, on the Thames estuary.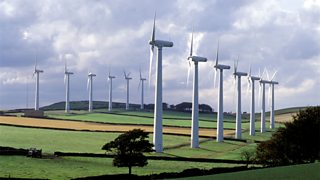 Many wind farms have been set up, particularly in Scotland and Wales. However some plans for large wind farms have been blocked by planners.
Biomass
Production of energy from biomass is expanding. In 2011 a new biomass energy centre was opened in Chilton, Durham. The supply of energy for biomass is more predictable than other forms of renewable energy. However people are concerned about how sustainable the sourcing of biomass is.
Wave and tidal
Energy from wave and tidal power could be developed more.