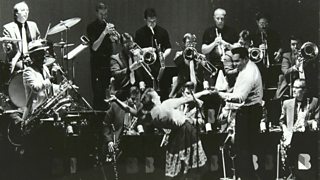 In 1930s and 1940s America, some jazz bands grew into much larger groups of musicians. These became known as 'swing bands' or 'big bands'. The instrumentation was:
two alto saxophones, two tenor saxophones, baritone saxophone

(sometimes clarinets)

three or four trumpets

three or four trombones

(including bass trombone)

rhythm section

– piano, double bass, guitar, drums
Each band had its own arranger, who wrote the music. Although there were still some improvised solos in swing music, playing the parts that were written by the arranger was very important.
Famous bandleaders from this era include:
Duke Ellington

Count Basie
Swing music became popular around the world and the UK developed its own big bands. The audio clip below is of Lew Stone and his band, who were one of the most successful British big bands of the 1930s.
Garden of Weed
performed by Lew Stone