Economic migration is defined as a choice to move to improve the standard of living by gaining a better paid job.
It is economic pressures, concerns or opportunities that provide the main reason for a migration move. People want to improve their wages and will be prepared to move to facilitate this.
When Poland and seven other Eastern European countries joined the EU in 2004, the UK received many economic migrants.
The pull factors included wages five times greater than they could get at home. Some come for seasonal jobs, such as vegetable and fruit picking.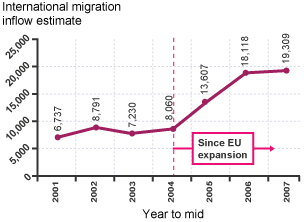 More qualified migrants may look for medical or education jobs. The Eastern European migrants are not evenly spread across the UK, as the map below shows.
This map of the UK show the total numbers of Eastern European migrants in each local authority who registered for work between May 2004 and December 2007.
As opportunities in Poland and other eastern European countries increase, people have started to move back.