i) The volume of milk produced by a herd of cows was recorded each month for a year. In the winter months, the cows are kept indoors in a large barn. The cows are fed the same quality and quantity of food each month. Suggest why the volumes of milk varied during the winter months. [1 mark]
ii) During the summer months, the farmer noticed that the volume of milk produced by the cows varied depending on which fields on the farm the cows were grazing on.
He divided the cows that produced 6501-7000 litres of milk per year into two groups. One of these groups grazed on a field by the river and the other on a field on the hill.
The graphs below show the results.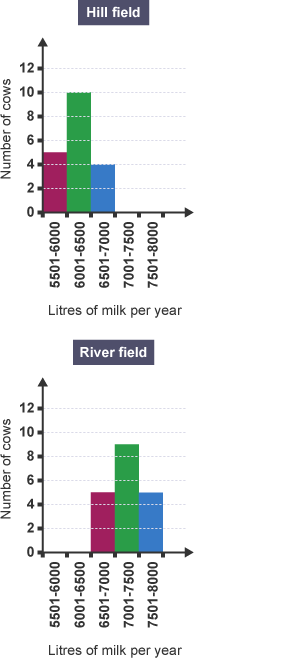 Explain the differences in the results shown in graphs [2 marks]
iii) When the farmer breeds from his cows he uses a method called artificial insemination (AI). The sperm are introduced into the cows mechanically rather than by using a bull directly.
How does this information suggest that AI is a method of sexual reproduction? [1 mark]
i) Cows produce more milk in the winter months because they are kept indoors. They are warmer so spend less energy on body heat. [1]
ii) River field cows' milk production is higher [1]
Because there are environmental differences [1]
This is a linked mark question. This means the second mark will only be awarded if the first mark has been given.
iii) There are two parents, we know this as sperm are used from a bull. [1]