An athlete is running on a treadmill.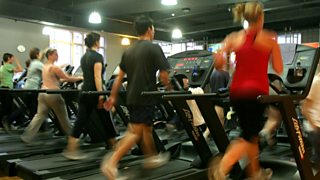 After running for several minutes, the athlete's leg muscles began to ache.
This ache was caused by a high concentration of lactic acid in the muscles.
Scientists investigated the production of lactic acid by an athlete running at different speeds.
In the investigation:
the athlete ran on the treadmill at 4 km per hour

the scientists measured the concentration of lactic acid in the athlete's blood after 2 minutes of running
The investigation was repeated for different running speeds.
The scientists' results are presented in the graph below.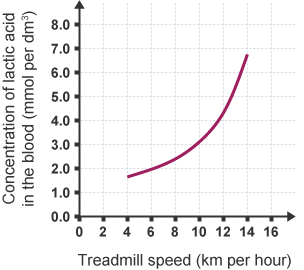 How much more lactic acid was there in the athlete's blood when he ran at 14 km per hour than when he ran at 8 km per hour? [2 marks]
4.4 mmol per dm3 [2]
Correct readings from graph in the ranges of 6.7 to 6.9 and 2.3 to 2.5, but no answer or a wrong answer gains 1 mark.