Wind power is a controversial commodity. Although it is renewable, and goes some way towards solving the problem of scarce fossil fuels for energy, not everyone is in favour of wind farms. Those who live close to wind farms claim that they are unsightly and noisy.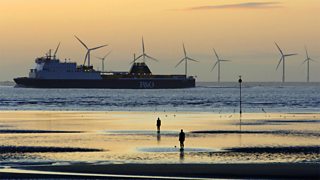 Burbo Bank wind farm has been fully operational since summer 2007, and consists of 25 turbines, which produce enough energy to supply 80,000 homes. The wind conditions in this part of the Mersey estuary are perfect for harnessing wind energy.
During the installation noise could be heard by nearby residents as the turbines were fixed into the seabed.
Some people living along the Sefton Coast have since had their view of Snowdonia blighted by the windmills.